Medaro Mining Corp. (CSE: MEDA OTC:MEDAF FWB:1ZY) ("Medaro" or the "Company"), is thrilled to announce the successful culmination of its diamond drilling program at the CYR South Lithium Property, located in the renowned landscapes of James Bay, Quebec, Canada. This achievement marks a momentous stride in our ongoing exploration endeavors within this highly promising region.
Over the past month, the Company has collaborated with Forage Pelletier Drilling of Chapais, Quebec, to execute an intricately planned drilling program (the, "Program"). This Program involved a total of eleven NQ size drill holes, covering 1,745 meters (m) of NQ size diamond drilling. The selection of drill hole locations was underpinned by extensive groundwork conducted in 2022, during which we identified several pegmatites with varying widths and lithologies. These pegmatites served as vital indicators, guiding the placement of drill holes. Initial drill hole logging information has confirmed the continuation of surface pegmatites at depths, with intercepted widths ranging from 1 to 95 m.
To optimize our chances of success in this exploratory venture, four of these drill holes were strategically positioned on or near the Satellite Imaging Targets (SIT). This data-driven approach underscores our commitment to enhancing the efficiency and effectiveness of our exploration activities.
Medaro Mining remains steadfast in its dedication to unlocking the exploration potential of the CYR South Lithium Property. We eagerly anticipate the analysis of the data and findings from this diamond drilling program, as it brings us one step closer to realizing our vision for sustainable resource development in the James Bay region.
Figure 1: Drill Hole Location Map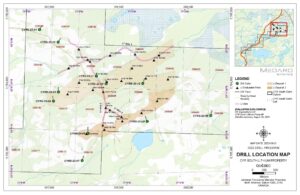 Reflecting on this significant accomplishment, Medaro Mining's CEO, Michael Mulberry, expressed his enthusiasm, stating, "The successful completion of the diamond drilling program at the CYR South Property signifies a pivotal moment in our ongoing quest for sustainable resource exploration. Our partnership with Forage Pelletier Drilling has played a pivotal role in achieving this milestone, and we take immense pride in the dedication and determination of our exceptional team. The presence of significant pegmatite formations and our strategic drill hole placements near the Satellite Imaging Targets are encouraging indicators of the property's potential. We remain steadfast in our commitment to responsible exploration and look forward to advancing our understanding of the CYR South Lithium Property."